Pallet Rack
The PR Skate, LLC sells pallet rack that will meet the requirements for both small and large storage needs for distribution hubs and warehouses. Our pallet rack is designed and engineered to meet a select set of quality standards that assure the user optimum storage efficiency, easy loading and retrieval, safety, and performance.
The PR Skate now offers a Quick-Ship program for non-seismic pallet rack.
---
Roll-Formed pallet rack is commonly used in warehouse storage. PR Skate distributes pallet rack with many different frame and beam styles. The following cut-away shows the features of the SpaceRak brand pallet rack.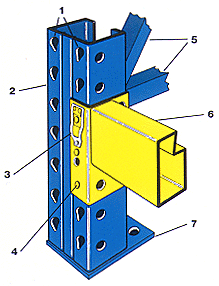 Tapered keyhole design
One piece welded frames
Snap-on spring safety clip
Heavy Duty connector studs
Four sided horizontal and diagonal bracing
Continuously welded beam construction
Extra heavy duty base plates
---
Drive-In / Drive-Through Rack: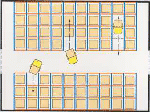 Drive-In rack is designed for one-way forklift entry, permitting trucks to move in or out of rack bays freely to store incoming loads or retrieve outbound loads for shipment. The rack bays have up to a 5 pallet deep capacity and is ideally suited for last-in, first-out (LIFO) inventory systems.

Drive-Through rack is designed to have two access aisles for loading and picking. Equipment can enter the bay from either aisle, load or pick, and exit the rack in the same direction. Drive-Through rack accommodates first-in, first-out (FIFO) inventory system.
Advantages of Drive-In / Drive-Through rack Systems: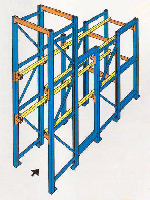 Eliminate conventional traffic aisles
High density storage

Floor -to-ceiling palletized storage
Lower costs

Greater Throughput
FIFO & LIFO inventory management
---
Pushback rack increases product storage by 75% verses a selective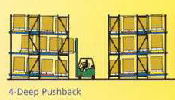 rack system. Pushback rack system provides high density pallet storage, safer operation, less rack damage, more throughput, and higher productivity. Configurations for Pushback systems range from 2 to 6 pallet positions deep and up to 4 or more levels high. Pushback rack can greatly increase the number or pallet positions in an existing warehouse.